Here's just a slight glimpse of what I have been enjoying this month…
DISCOVERIES
For fans of: Kojo Funds, Dave, Mostack
As an avid music fan, it is a personal goal of mine to discover new music and artists as often as I possibly can, daily preferably. Despite the amount of music you listen to or the genres you delve into, each listener will find sparks in different artists dependent on various factors like relatability, lyrics, beats, etc. However, this 'spark', so to speak, is exactly what makes finding new music so exciting and the biggest spark I have come across recently was when discovering London rapper Knucks.
Knucks resides in a league of his very own, serving us modern rap with a clever retro twist. 'Vows' portrays the rapper's audacious boyish charm, similar to likes of AJ Tracey,  fused with an authentic jazz inspired sound that acts as a nostalgic time machine, taking anyone that listens to a past musical era. With UK rap and R'n'B being as well received as it is currently, artists like Knucks will have no problem standing out from the crowd.
Future releases from Knucks will be very highly anticipated, no doubt.
For fans of: AJ Tracey, K-Trap, Harlem Spartans
Similar to Knucks, Croydon rapper SL is proving to be a contender in the UK music scene with his latest single 'Tropical' which was released on December 25th, 2017; quite the Christmas present. Again, my favourite part about SL's sound is that he has taken such a relevant sound and added an innovative twist which sets him apart from the rest of the rather saturated crowd.
Grime is often perceived as an intimidating or even aggressive genre, which is why the unlikely contrast of the minimal and mellow music works so well behind SL's daring lyrics. The future seems very bright for the young rapper, I can only hope that we see more of this.
THE WEEKEND – SZA x CALVIN HARRIS
For fans of: Daniel Caesar, Miguel, Kehlani
"It's important to remix mostly because sometimes you have to be sure that there is no better version of you to be attained… and then sometimes you realise that there are definitely better versions to be attained, and you have to get in and attack those moments. Commit yourself to being something better." (SZA)
Whether this recent reflection from SZA is talking about music or something much much deeper, the meaning rings true. Experimentation can go wrong, but it can also go so right and the latter can definitely be said for the recent remix of SZA's hit 'The Weekend' by Calvin Harris. This version exposed SZA's well-known R'n'B sound to an infectious funk flare that has recently come to the mainstream eye through the likes of Bruno Mars and Tuxedo. While her original hit is an incredible song by itself, this remix proves that a better (or different) version of you really can be attained through a different outlook.
For fans of: Lotto Boyzz, Big Tobz, Nafe Smallz
Donning the sound that is currently booming from the streets of London, Belly Squad have fused the best of Afrobeat with UK rap elements, a sound which is sure to catapult the trio into the forefront of the musical limelight in the coming year.
Recent release 'Lifestyle' is the epitome of an infectious club classic that is sure to grow in popularity throughout the coming year. With one listen of this track, you will certainly be humming along to the chorus and reaching for a beer (trust me, I was).
EXCELLENT DONUT – JAM BAXTER x ED SCISSOR
For fans of: Dabbla, Hopsin, Verb T
If you're a fan of lyrical content, then this is the one for you. A perfect collaboration between UK rap heavyweights Jam Baxter and Ed Scissor, 'Excellent Donut' will leave you feeling reflective as the clever musical poetry poured into the music sinks into your mind.
With much of the music that I have recently discovered or is currently in the mainstream charts, it is clear to see that lyrical content often goes overlooked or is viewed as not as important as aspects such as melody and beats. Jam Baxter and Ed Scissor, however, are a much needed reminder that lyrical poetry is still very much present in modern music as a beautiful art form of its own.
SONGS
For fans of: Mallory Knox, Young Guns, Lower Than Atlantis
The fifth teaser unveiled for the much anticipated third studio album 'Technology' from Bedford based four piece Don Broco, 'Come Out To LA' is the perfect representation of why the rock scene needs bands like this. Rather than following the crowd with their sound or visuals for that matter, Don Broco are experimenting with electronic influences, pop choruses as well as hard rock heaviness to create something completely new and exciting.
With such a broad genre as Rock, it is extremely easy to get lost in the crowd, especially with how rapidly fan bases can be cultivated in modern times, however, Don Broco, as well as others such as Enter Shikari, are just a few acts that threaten to be here for a long time. Here's to February 2nd!
ITS A VIBE – 2 CHAINZ, TY DOLLA $IGN, TREY SONGZ, JHENE AIKO
For fans of: Pusha T, A$AP Ferg, Juicy J
In these unfavourable winter months when the days are short and the weather is far, far too cold, sometimes relaxing just needs to be on the agenda which is why this song has landed into my favourites this month.
'It's a Vibe' is a track that should be a favourite of any R'n'B lover because it really is a 'fits all' sort of song. Whether you're relaxing by yourself after a hard day or getting some drinks in before a heavy night, this song will set the tone perfectly and makes you want to sing along in a world of your own.
KNOW MY TING – GHETTS x SHAKKA
For fans of: Kano, Giggs, Wretch 32
With the uprise of grime in the UK mainstream, it is unbelievable that an artist like Ghetts has been so undeservedly overlooked, however, 'Know My Ting' featuring hot topic Shakka stands to shake up the game.
In comparison to a large number of grime records released within the last year, Ghetts serves us something that truly stands out as unique and even catchy with it's repetitive hooks.
For fans of: J Hus, MIST, Kojo Funds
Mostack is just one of the many British artists catapulting 'Afrobeat' and UK R'n'B into the musical forefront which has caught the attention of many.
'Let It Ring' features such a relevant sound in current UK music and proves to be much of a modern club classic which comes as no surprise when listening to its catchy and repetitive chorus. Even one listen will leave you humming along.
For fans of: Holding Absence, Noija, Glass Tides
The black horse of my five favourite songs for January, Parting Gift are post-hardcore newcomers based in Manchester that threaten to take over the UK rock scene. 'In Mind' instantly evokes emotion due to the contrast of its soft reflective verses and chaotic, pleading choruses.
As cliche as it is to say, 'In Mind' takes the listener on a journey through which different thoughts and feelings are provoked. Rather than being consistent, the song progresses and retracts, which is reflective of the troubled lyrics. There is a certain power when a song is so convincing to its listeners and this is a power which Parting Gift have in the bag.
ARTISTS
SHAKKA
For fans of: Not3s, Avelino, WSTRN
Within the last few months, Shakka has been making his presence recognised in the UK R'n'B/Afrobeat scene through many collaborations with artists such as Not3s, Wretch 32, Ghetts, Young Thug and many, many more. Shakka has fallen into my January favourites as he is one to watch in 2018, an artist that I am finding very interesting watching grow musically. He is living proof that innovation is alive in modern music as he brings a distinctive sound to the table with an energy that is certainly infectious.
RECOMMENDED:
LOYLE CARNER
For fans of: Tom Misch, Casisdead, Rejjie Snow
Another exciting career that is developing right before our eyes is that of Loyle Carner, a UK 'Hip-Hopper' with an authentic neo-soul touch that differentiates the rapper from his competition. Having been nominated for a Mercury award in 2017, alongside various other awards, Carner has been the topic of conversation in the music world and you can bet this is just the tip of the iceberg for the artist.
RECOMMENDED:
'Crazy Dream' Tom Misch Feat. Loyle Carner
MABEL
For fans of: RAY BLK, Stefflon Don, Not3s
Without a doubt, Mabel has been one of the stand-out stars of 2017, with 'Finders Keepers' dominating every club, shop and radio station in the UK. Having been brought up by parents that have already had a fulfilled and successful career in the music industry, many would feel that there are massive shoes to be filled, however, Mabel takes it all within her stride and uses her parents as drive to become one of the biggest modern stars in the world, and she is very much so on her way there.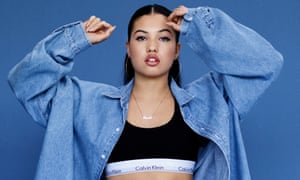 RECOMMENDED:
'Finders Keepers' Feat. Kojo Funds
Want to get involved? Comment below your January favourites!